I'm a painter and a sculptor, and above all a draftsman. Being the son of a multidisciplinary artist that awakened in me the curiosity and interest in any artistic expression, from painting to scenography, I lived art since I was born, as something natural, quotidian. For as long as I can remember I spent my life stuck to a pencil, so there wasn't a way out, although I wanted to be a Historian!
I was educated in the constant study of the great masters, the old- fashioned way, in order to make real contemporary art. Francis Bacon, Giacometti, Bernini and Tiepolo influenced my education, so I'm the result of all that mixture. I think this intention and mixture is obvious in my work, to join both vectors into one.
When I started to show my work in exhibitions I stood out because of the virtuosity of the drawing, but that wasn't my intention, so, even though I was flattered for the praises, I kept going on my trip to describe the regions of the soul, a trip I don't know where is going to take me, but gives sense to the fact of painting, sculpting or drawing.
In that quest with pencils, bushes or chisels in my hand, a spiritual quest constantly rising towards that which can not be named, I find myself running away from all that "absurd art" that nowadays is pervading us, trying to come back by the path of dignity and sense, so that the art become necessary again and not an intellectual game, that turns into a bad joke.
I just can promise fight and honesty…… if the outcome is good and I achieve victory ,everything will make sense. Thank you all!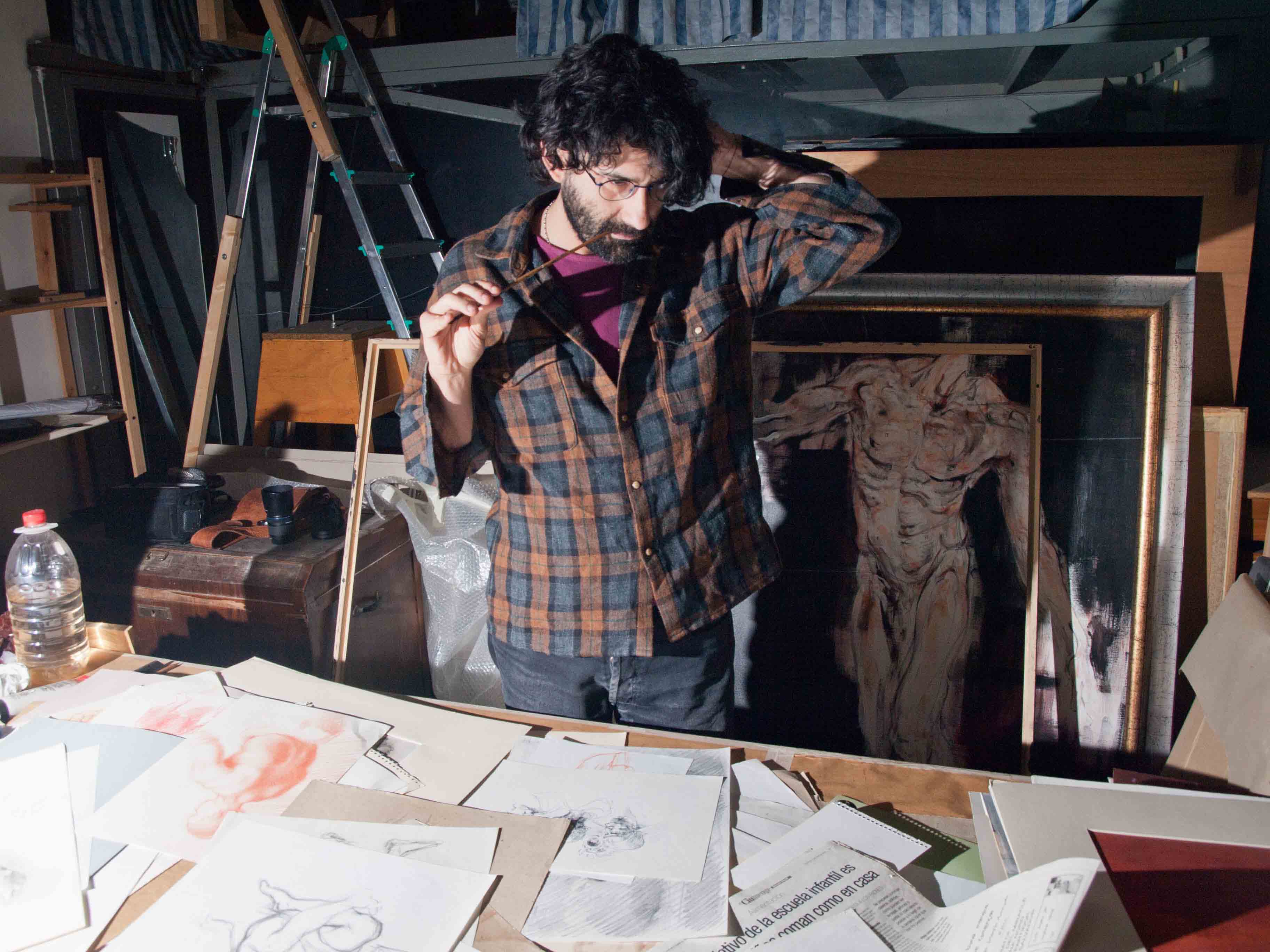 … Orfeo Soler's strikes me a very paradigmatic case in several aspects. The first is the theoretical undercurrent in his works, composed of feeling and passion, due to an illness –partially overcome thanks to the practice of art–, full of pessimism, strengthened by a scathing philosophy that leads him throughout the darkness and the ashes to find the depths of his characters, who are only brought back to life after a sum of destructions and amputations. Despite those, nevertheless, they still reflect a startling perfectionism, both in his drawings and in his oil painting and sculptures.
The second aspect is his career, the positive and the negative sides. The classical perfectionism of his drawings, literally breathtaking, is the basis of his art, inspired by the greatest sources of the finest western tradition. But this same training has eventually become a problem, since contemporary art cannot lie in just sticking to the tradition, due to quite complex but utterly undeniable reasons.
Therefore, Orfeo, after creating some of his best drawings and sculptures, has devoted himself to scrape them, furiously and meticulously, to fill them with geometric shapes, with colour blotches, with cabalistic symbols, with rot and wounds. He has told me he is engaged in "deconstructing" his works. Such is the case that some of his sculptures have undergone real surgery, which has completely changed their once depicted anatomy. So, all in all, Orfeo Soler's art remains outright hopeful, and I will keep an eye on his career towards a future that, I trust, will stay demanding and vastly interesting.
Jaume Socías Palau
ALEJANDRO ORFEO SOLER DENIA
Alcoi, 1972.
FORMATIÓN:
First course of scenography "Institut del Teatre" de Barcelona.
Course school illustration J.O.S.O. de Barcelona.
Course monograph sculpture at the Llotja of Barcelona.
COLLECTIVE EXHIBITIONS:
1994
Sala Palatino, Alcoi
Art Jove Alcoià. Xist, xist, que venen que venen. Centre Cultural (Alcoi)
1995
Gupo P.E.E.S.A. a Can Butjosa en Parets del Vallés (Barcelona)
1996
Estances. Sala UNESCO (Alcoi)
Trabajo seleccionado y expuesto en la Bienal de Arte de Alcoi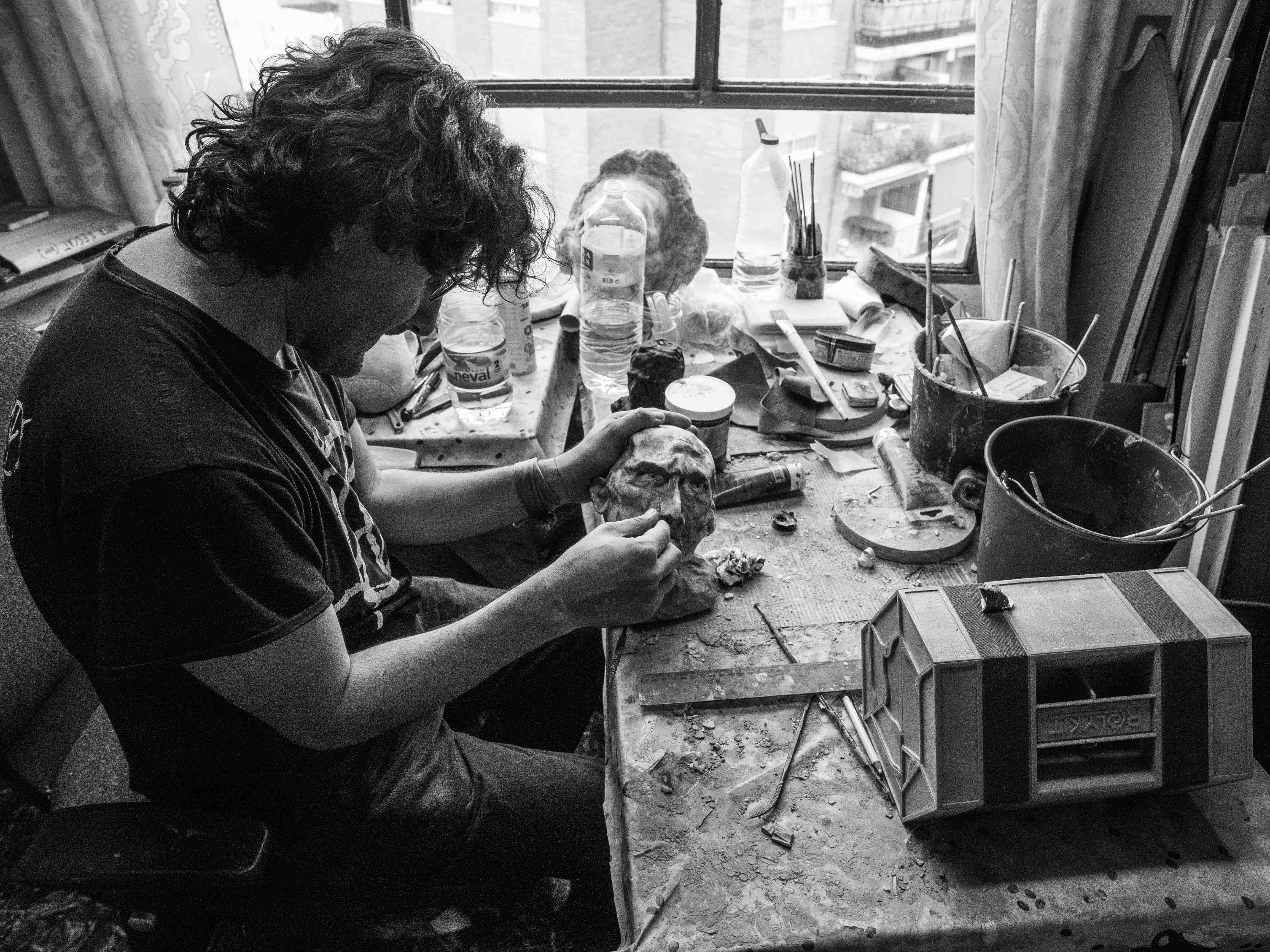 1998
Realidades. Amaury Gallery (Castellón de la Plana)
Conmemoración de la Declaración de los Derechos Humanos. Sala UNESCO (Alcoi)
2000
Entre Tots Art Alcoià. Centre Cultural i Llotja Sant Jordi (Alcoi)
2002
Percances. La Sala Naranja (Valencia)
2003
El lado enfermo. La Sala Naranja (Valencia)
2004
La Pecadera. La Sala Naranja (Valencia)
Alcoians i no. Casal Ovidi Montllor (Alcoi)
2005
Post-Patétic. La Sala Naranja (Valencia)
Al voltant de l'Ovidi. Casal Ovidi Montllor (Alcoi)
2006
Eres tú John Wayne. Sala Naranja (Valencia)
2007
Galeria José de Ibarra (Barcelona)
Participación en la Feria de La Haya
2010
Conmemoración de los Derechos Humanos. Sala UNESCO (Alcoi)
2011
Tradición y Vanguardia. Selección de 30 pintores alcoyanos del siglo XX. Lonja del Pescado (Alicante)
INDIVIDUAL EXHIBITIONS:
1994
Sin novedad en el frente (compartida) Pub L'escenari (Alcoi)
1995
Sala Palatino (Alcoi)
1998
La Bilis Negra. Sala UNESCO (Alcoi)
La Bilis Negra. El Balcó de l'Art Novell. (Cerdanyola del Vallés)
1999
Arquitectura d'una Ferida. Foc Gallery (Barcelona)
Novena Mostra de Teatre d'Alcoi. Llotja Sant Jordi (Alcoi)
Despulles d'una fortaleza. Sala Almirall (Barcelona)
2001
Espai Blanc (compartida) (Barcelona)
Óxido. La Sala Naranja (Valencia)
Esta maquina es obsoleta. Foc Gallery (Barcelona)
2002
Mecànica Imperfecta. Sala CAM (Alcoi)
Galeria Canals (Sant Cugat del Vallés)
2005
La Sangre de Ayax. Sala Micalet (Valencia)
2008
Colegio de Médicos (Alicante)
2011
Teatro Calderón (Alcoi)
2013
Realización del cartel de la XIII Mostra de Teatre d'Alcoi 2013
Exposición compartida Paris y Orfeo Soler "Homenaje a Alejandro Soler" Centre Cultural Ovidi Montllor (Alcoi)
Exposición individual "Anatomia del alma" Casa Bardin – Instituto Alicantino de cultura Juan Gil-Albert